About Us
| Directions | Hours | Virtual Tour |

Connect on Facebook
Eastern Lancaster County Veterinary Clinic opened for business on August 4, 2009 when the Smoketown Veterinary Hospital separated into three divisions. On that date Dr. Jerry Wenger and Dr. John Kreider bought and assumed control of the farm-animal portion of the Smoketown practice. Shortly thereafter, Dr. Andrew Ellis and Dr. Tim Van Grouw became partner veterinarians. Together, we operate a veterinary practice devoted solely to the health and treatment of farm animals. This includes animals such as cattle, horses, sheep, goats, llamas, and alpacas. We provide limited services for farm dogs and cats such as routine vaccinations, deworming, health certificates, and USDA inspections.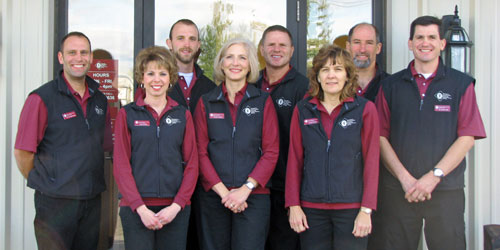 Back Row: Dr. Van Grouw, Dr. MacGregor, Dr. Wenger, Dr. Kreider, Dr. Ellis
Front Row: Missy, Denise, Susan

For the first year of operation, Eastern Lancaster County Veterinary Clinic remained at Smoketown Veterinary Hospital at 2497 Old Philadelphia Pike, Lancaster. During that year, they bought and remodeled the Atkins Deck Treatment Services building in Leola. Our current address is 24 Zimmerman Road in Leola, and you can find directions to our office here. Please feel free to stop by or give us a call for all of your farm-animal veterinary needs. Our facility is open from 8:00 a.m. to 3:45 p.m., Monday to Friday, should you need to stop by and pick up medications or supplies.
Our doctors answer the phones from 7:00-8:00 a.m. daily, Monday through Saturday. Please call during those times to schedule farm visits and to discuss any veterinary medical questions you may have. You can schedule appointments in advance by speaking with our secretarial staff from 8:00 a.m. to 3:45 p.m., Monday through Friday. Emergency calls during those hours will be scheduled by our staff. We provide emergency service 24 hours a day, 365 days a year. After hours, calls are scheduled through a local answering service.
Our secretary is Missy who has been with us since 1995 (when we were known as Smoketown Veterinary Hospital). Denise and Susan help Missy with office duties such as bookkeeping and purchasing.